Attila Demény
full member of the HAS
director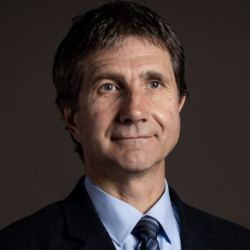 Contacts
+36 1 319 3137
+36 1 319 3137
demeny.attila at csfk.org
305-306. szoba
Qualifications
full member of the Hungarian Academy of Sciences (2016)
corresponding member of the Hungarian Academy of Sciences (2010)
doctor of the Hungarian Academy of Sciences (D.Sc., MTA 2001)
"candidate of geosciences" (PhD, MTA TMB 1994)
university doctor (ELTE TTK, 1992)
diploma in geology (ELTE TTK, 1986)
Main fields of research
Geochemical studies on Hungarian and Alpine high-pressure metamorphic rocks (Penninic rocks, leucophyllites, whiteschists).
C,O,H and N isotope geochemistry of fluids of mantle-derived igneous rocks with special attention to fluid movements related to carbonatitic magmatism (magmatic rocks of Hungary, carbonatites from India, Canary Islands, the Kola peninsula and Canada).
Stable isotope geochemistry of major extinction events (Permian-Triassic, Triassic-Jurassic).
Paleoclimate research on terrestrial deposits, coordination of the Geochemistry and Paleoclimate Research Group in the institute.
Study trips
Austria, 1987, 1 month, Soros Foundation.
Utrecht, The Netherlands, 1988-1989, 5 months, Hungarian Scholarship Council.
Trieste, Italy, 1993, 2 months, CNR.
Lausanne, Switzerland, 1995, 4 months, Fonds National Suisse de la Recherche Scientifique.
Tübingen, Germany, 1996, 2 months, DAAD.
University of Rome, Italy. Invited as visiting professor for 1 month in 2001.
University of Lausanne, 3 months, Fondation Herbette.
Membership of scientific and professional organizations
1994-96 International Isotope Society, chairman
1996- Member of the Committee for Mineralogy-Petrography-Geochemistry of the Hungaran Academy of Sciences. 2002-2008: Secretary. 2008-: chairman.
2000-2008 International Association for Geochemistry and Cosmochemistry Councillor/Executive Member; 2002-2008: Secretary.
2006- secretary of the Hungarian National Committee of the International Union of Geological Sciences.
2004-2008 member of the Earth Sciences 1 jury of the Hungarian national Research Fund, chairman from 2005 to 2008.
2005-2010 editorial board member of Acta Geologica Hungarica.
2008-2014 member of the Habilitation Committee of the Eötvös Loránd University
2009- Earth System Science Data, editorial board member.
2010- Editor-in-Chief of Central European Geology.
Conference organization
1996. Isotope Workshop III, Budapest
1997. 1st Isotope Geochemistry Meeting, Budapest (Hungarian)
1997. The role of geo- and environmental sciences in the preservation of our historical heritage, meeting, Budapest (Hungarian)
2000, 2002: Hungarian Meeting of Isotope Geochemistry.
2007-. PAGES (Past Global Changes) 2007, 2009, 2012, 2014 conferences for the Hungarian participants.
2008: International Geological Congress, session convener.
European Geosciences Union, session convener (2006, 2009, 2010, 2011, 2012)
JESIUM 2012, session convener
Awards
Szádeczky Kardoss Elemér Foundation, 1st and 2nd Awards.
1993. Youth Award, Hungarian Academy of Sciences.
2003. Publication Award of the Hungarian Meteorological Survey.
2007. Academy Award.
2009. Certificate of Recognition. International Association of GeoChemistry.
Teaching
Eötvös Loránd University, Budapest: special course ("Principles and applications in stable isotope geochemistry"), consulent of diploma and PhD works (3).
Selected publications of the last 5 years
Czuppon, Gy., Demény, A., Leél-Őssy, Sz., Stieber, J., Óvári, M., Dobosy, P., Berentés, Á. Kovács R. (2022) Monitoring and Geochemical Investigations of Caves in Hungary: Implications for Climatological, Hydrological, and Speleothem Formation Processes. In: Veress, M. and Leél-Őssy, Sz. (eds), Cave and Karst Systems of Hungary. Springer Nature Switzerland AG, pp. 465-486.
Gugora, A., Demény, A., Fóthi, E., Horváth, A., Palcsu, L., Karlik, M. (2022): Detection of diagenetic alteration in bones and teeth for migration and dietary studies — a combined FTIR and C-N–O-Sr isotope study on tenth century CE cemeteries in northern and northeastern Hungary. Archaeological and Anthropological Sciences, 14,58.https://doi.org/10.1007/s12520-022-01532-3
Demény, A., Rinyu, L., Németh, A., Czuppon, Gy., Enyedi, N., Makk, J., Leél-Őssy, Sz., Kesjár, D., Kovács, I. (2021) Bacterial and abiogenic carbonates formed in caves – no vital effect on clumped isotope compositions. PloS ONE 16(1): e0245621. https://doi.org/10.1371/journal.pone.0245621
Demény, A., Kern, Z., Hatvani, I.G., Torma, Cs., Topál, D., Frisia, S., Leél-Őssy, Sz., Czuppon, Gy., Surányi, G. (2021): Holocene hydrological changes in Europe and the role of the North Atlantic ocean circulation from a speleothem perspective. Quaternary International 571, 1-10.
Demény, A., Rinyu, L., Kern, Z., Hatvani, I.G., Czuppon, Gy., Surányi, G., Leél-Őssy, Sz., Shen., Ch.-Ch., Koltai, G. (2021): Paleotemperature reconstructions using speleothem fluid inclusion analyses from Hungary. Chemical Geology 563, 120051.
Demény, A., Kern, Z., Németh, A., Frisia, S., Hatvani, I.G., Czuppon, Gy., Leél-Ossy, Sz., Molnár, M., Óvári, M., Surányi, G., Gilli, A., Wu, Ch.-Ch., Shen., Ch.-Ch. (2019) North Atlantic influences on climate conditions in East-Central Europe in the late Holocene reflected by flowstone compositions. Quaternary International 512, 99–112.
Németh, P., Mugnaioli, E., Gemmi, M., Czuppon, Gy., Demény, A., Spötl, C. (2018) A nanocrystalline monoclinic CaCO3 precursor of metastable aragonite. Science Advances 4, 12, eaau6178.
Hatvani IG, Kern Z, Leel-Ossy S, Demeny A (2018) Speleothem stable isotope records for east-central Europe: resampling sedimentary proxy records to obtain evenly spaced time series with spectral guidance. Earth System Science Data 10, 139-149.
Újvári G, Stevens T, Molnár M, Demény A, Fabrice L, Varga G, Jull AJT, Páll-Gergely B, Buylaert JP, Kovács J (2017) Coupled European and Greenland last glacial dust activity driven by North Atlantic climate. Proceedings of the National Academy of Sciences of the United States of America 114, 10632-10638.
Demény A, Kern Z, Czuppon Gy, Németh A, Leél-Össy Sz, Siklósy Z, Lin K, Hsun-Ming H, Shen Ch-Ch, Vennemann T W, Haszpra L (2017) Stable isotope compositions of speleothems from the last interglacial e Spatial patterns of climate fluctuations in Europe. Quaternary Science Reviews 161: pp. 68-80.
Last update 2022.12.20.